SHOEI XR-1100 CHEEK PAD
XR-1100 / QWEST
Error while adding
This article is not available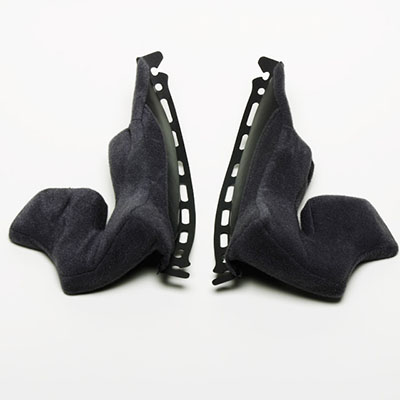 SHOEI XR-1100 CHEEK PAD
XR-1100 / QWEST
---
JOUES XR1100/QWEST TAILLE 31/XXL
18032100
With our cheek pads you can replace the original padding of your helmet. Or use a slightly thicker or thinner pad for individual fitting. Cheek pads of a helmet model are interchangeable in all available sizes.

You will find the size of the original padding on its back.

The ergonomic, three-dimensional pre-forming ensures that the padding rests extensively on the cheek and thus ensures a stable fit of the helmet even at high speeds. A tight but comfortable fit on the cheek and chin arch also reduces draughts and contributes significantly to noise reduction.

If the inner padding of your helmet is worn out after many miles together or if it can no longer be cleaned, a replacement will ensure a new fit and a fresh, hygienic helmet interior.

Set with 2 pads (left/right).

Suitable for the models XR-1100 and QWEST.

Fastening with snap buttons and fastening bar.

Please refer to your helmet manual for instructions on fitting and cleaning.
---
Livraison rapide
Paiement sécurisé
Retours et échanges faciles
---